What Happens When I Come To Cambridge?
Usually, when we invite you to come to Cambridge for further studies, it is because we have identified a possible genetic cause for you or your child's severe weight problem.  

When you are with us, we are able to explain what we have found in more detail and answer any questions you may have. We can also tell your more about our work and how you can help us.

We ask you to help us with some further tests in order to learn as much as possible about the gene and how it may affect such things as how your body handles the food you eat and the various hormones released into your blood. It is in this way, by seeing as many people as possible with a particular gene problem, we can build up a picture of how it works in the body.
 
We hope that our work with families may in time lead to effective treatments. 
Who will I see?
You will see Professor Farooqi and her clinical team (meet the team)
Where will I stay?
You will stay on our Translational Research Facility (TRF) at Addenbrooke's Hospital, Cambridge. This is not like a regular hospital ward, being more private and with most rooms having en-suite facilities, wifi, satellite TV and DVD players. Games consoles are available and there is also a playroom and a lounge area. Please have a look via the link: Translational Research Facility.
What will happen ?
If you come to see us, we will try our best to make you feel as comfortable as possible. We want you to have a good experience and hopefully be happy to come back again if necessary. When you arrive, you will be met by one of our senior nurses who will take you to the TRF. The nurse will then take a few details from you and make you comfortable.

Professor Farooqi will then talk to you about what we have found and will probably ask you a few questions about your family's medical history. She will also explain the tests that we hope to do and you will have the opportunity to ask any questions. If you don't want to take part in any of the tests, that is fine, it will not affect your medical care. We will ask you to sign a consent form before any tests are done.

You can ask questions at any time as we know that there is a lot of information to try and understand all at once.
What sort of tests will you do?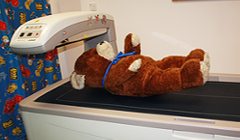 The very first thing that we like to do with all our patients is to measure your height and weight. The tests we do may vary depending on the particular gene problem that we have found but some of them are described below. You will find out more about them when you are with us.
 
We often measure something called "body composition" which means how much muscle, bone, water and fat you have in your body. This we can do very easily using something called a DEXA scan. This machine looks like a long table that you lie on and an "arm-like" piece of the machine moves along from your head to your toes, taking lots of pictures of you, rather like a photocopier.
We may want to look at how your body uses up the calories that you eat and this is called your "metabolic rate". We usually do this first thing in the morning, while you are still in bed, using a machine that looks a bit like a space helmet that goes over your head. Don't worry, it doesn't hurt and of course, you can still breathe normally! Before measuring your metabolic rate, we like to give you a carefully balanced meal the night before. This is because we need to know the exact composition of the food that you eat to work out the number of calories your body uses when you are resting. This is why we ask you if there are any foods that you really don't like and can't eat!!!

We sometimes like to check your heart rate and blood pressure.  We can do this by attaching some stickers and a very small monitor called an "Actiheart" onto your chest.

We do have to take a blood test, usually in the morning before any food. We try to make this as quick and pain-free as possible for our children (and any nervous grown-ups too). We understand that many of the children have had unhappy experiences of blood tests in the past. It is important to take a blood test because we can learn so much from this and also from your urine, which we often like to collect from you. In particular, we are able to measure different hormones in the blood and urine that can be very helpful in understanding you/your child's condition.

We usually ask you to bring some family photos along as these are often useful in determining how a condition develops and runs in the family.
What happens after the appointment in Cambridge?
We will write to your referring doctor with a summary of the assessment that we did here in Cambridge, including any advice given and any plans that have been made for further investigations or follow up. You will usually be sent a letter summarising your results. If anything is unclear, you should contact your doctor or a member of our team.
When will we get the results?
Although some test results may come back in a few days, other results may take several months. The test results will be sent to your/ your child's doctor.
How to find us
We try our best to help you find the best way to get to Cambridge. We speak to you by telephone and also write to you with your appointment date and times. You can find out where we are here:
http://www.cuh.org.uk/addenbrookes/finding_us/maps.html